An Android app that provides an interactive 3D live wallpaper based on the oil painting "The Yellow House" by the 19th-century Dutch Post-Impressionist painter Vincent van Gogh.
Screenshots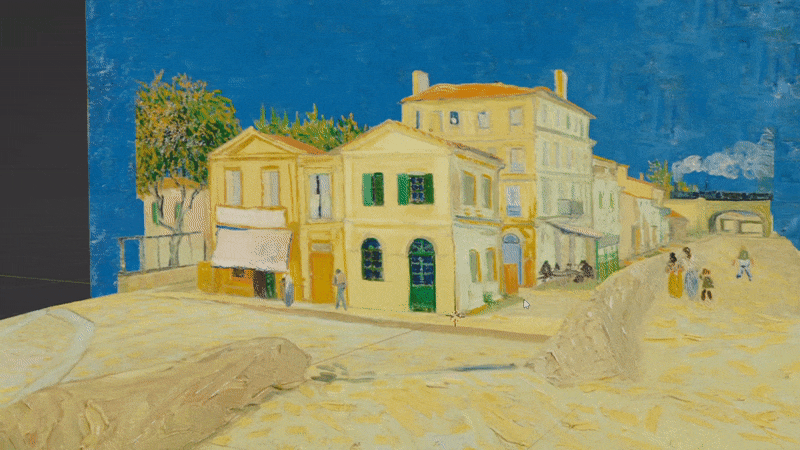 Download
The painting
In May 1888, Van Gogh rented four rooms on the right-hand side of a house on Place Lamartine in Arles (southern France).
Shortly after moving into the "Yellow House", he sent his brother Theo a description and sketch of his painting of it with the words "it's tremendous, these yellow houses in the sunlight and then the incomparable freshness of the blue".
The work, which Van Gogh himself called "The Street", records the artist's immediate surroundings: he often ate at the restaurant on the left, and the home of one of his friends lay just beyond the second railway bridge on the right.
In the left foreground is an indication of the corner of the pedestrian walk which surrounded one of the public gardens on Place Lamartine.
The ditch running up Avenue Montmajour from the left towards the bridges served the gas pipe, which allowed Van Gogh a little later to have gaslight installed in his atelier.
Vincent had finally found a place at the Yellow House where he could not only paint but also have his friends come to stay. His plan was to turn the yellow corner-building into an artists' house, where like-minded painters could live and work together.
The building was severely damaged in a bombing raid by the Allies on June 25, 1944, and was later demolished. The place without the house looks almost the same.
Original specs
The Yellow House (The Street)
Vincent van Gogh (1853 – 1890), Arles, September 1888
Oil on canvas, 72 cm x 91.5 cm
Van Gogh Museum, Amsterdam
2D painting to 3D scene conversion
The 3D model is not fully recreated from scratch ("inspired" by the original painting), as other 3D van Gogh interpretations.
Instead, I spent many hours of detailed work extracting all the objects in this painting with an image manipulation software.
Then I positioned the still flat, perspective-distorted objects in a 3D world and rectified them in perspective so that they are exactly as large in 3D as they appear to the viewer on the original.
This meant a lot of fine-tuning to make the scene look exactly the same in 3D from the original perspective as the scene in the painting.
The areas that remain hidden from the viewer on the original were a particular challenge. If you want to be able to move the scene in 3D, these surfaces must also be present, at least to a certain point.
I then explored the scene to find good camera positions for the different launcher states. Finally I used libGDX to animate the 3D scene as a live wallpaper.